The Golden Triangle - Ras Mohammed Thistelgorm Dahab
Trip will start from Hurghada and we will cover the following in this safari :
Hurghada Area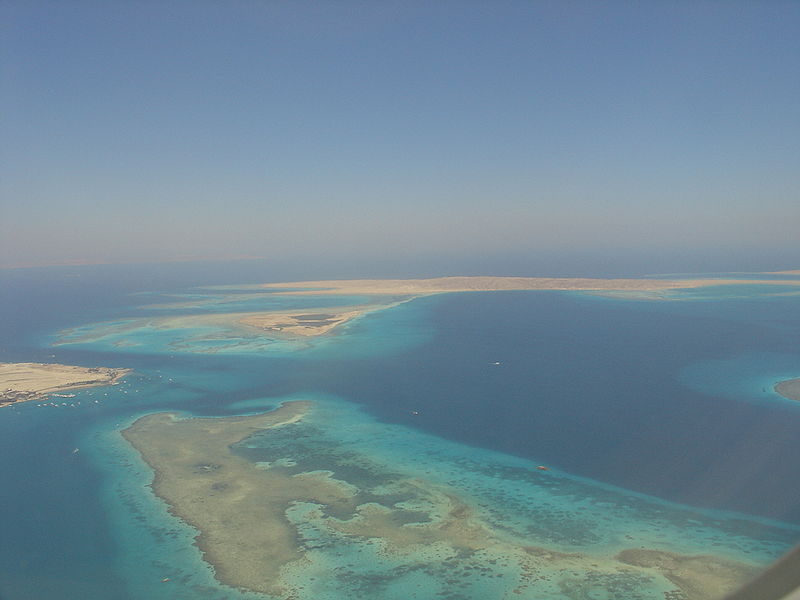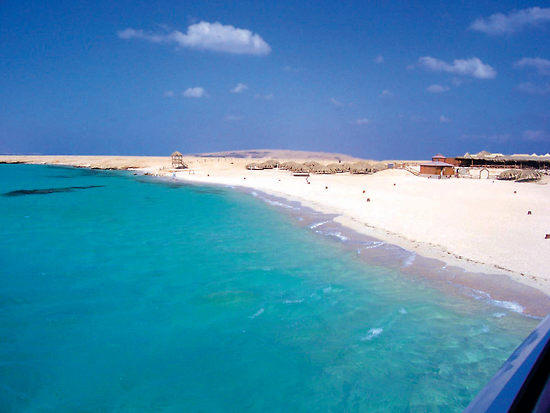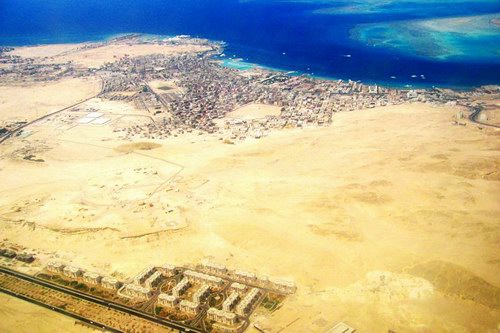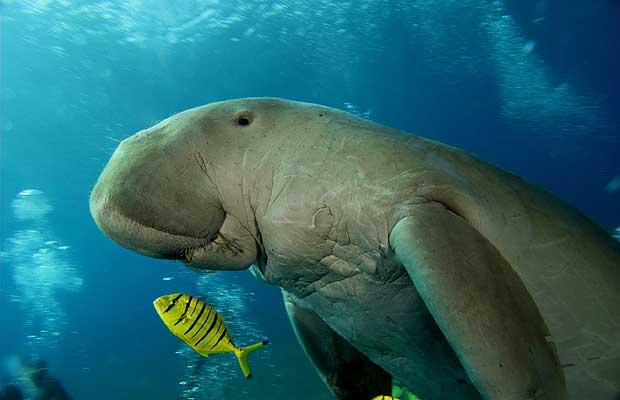 Shaab El Erg
This is a large horseshoe shaped reef north of Hurghada. It is a sheltered site and excellent for micro reef life such as nudibranch. You are also likely to encounter moray eels and blue-spotted stingrays here. Pods of dolphins also frequent the area
Shaab Abu Nohas
Carnatic
Built in Britain in 1862, the Carnatic was a steamship with sails which operated both as a passenger and cargo vessel and plied a route between Suez and Bombay. On the night of 12th September 1869 in strong currents, she ran aground at Sha'ab Abu Nuhas. The following day, the weather deteriorated further and on the 14th September she broke up and sank, with the loss of 31 lives. At the time of her sinking, as well as carrying some 210 passengers and crew, she was carrying a cargo of cotton bales, mail, bottles of wine and soda water as well as £40,000 worth of gold bullion. Indeed, it is believed that some of the gold was never recovered!
Today, she can be found lying at a depth of between 27 and 16m. She is now covered in soft corals but makes for interesting exploration and, while the middle section is broken up, the bow and stern are intact.
Giannes D
The Giannis D crashed into the reef at Sha'ab Abu Nuhas in April 1983 and sank with her cargo of timber. Originally built in Japan in 1969 and called the 'Shoyo Maru', at the time of her sinking she was owned by a Greek shipping company, Dumarc, hence the 'D' in her name which was painted on the ship's funnel and can still be seen today.
She lies between depths of 4m and 24m. Dives usually commence at the stern which is very much intact, though completely severed from the midship area which has virtually all broken up. The bow section, too, is also intact, while separated from the rest of the ship. You can visit the engine room in the stern section entering via an opening in the funnel. You can see all the instruments, pipes and machinery in here which are all intact. After exploring the stern, you can swim across the destroyed middle section and take a closer look at the bow, which lies between 12 and 18m.
The ship has been colonised by many soft corals and, consequently, many fish have made the freighter their home. You are likely to encounter schools of glassfish and anthias, lionfish, groupers and Napoleon fish. Moray eels too have made the hull of the Giannis D their home.
Sharm Area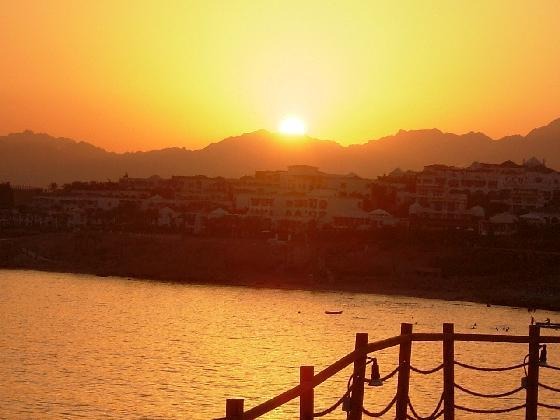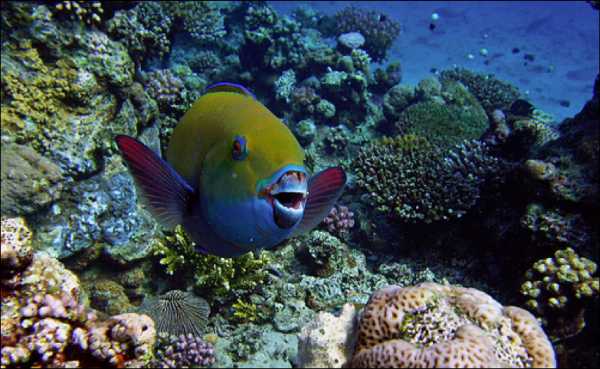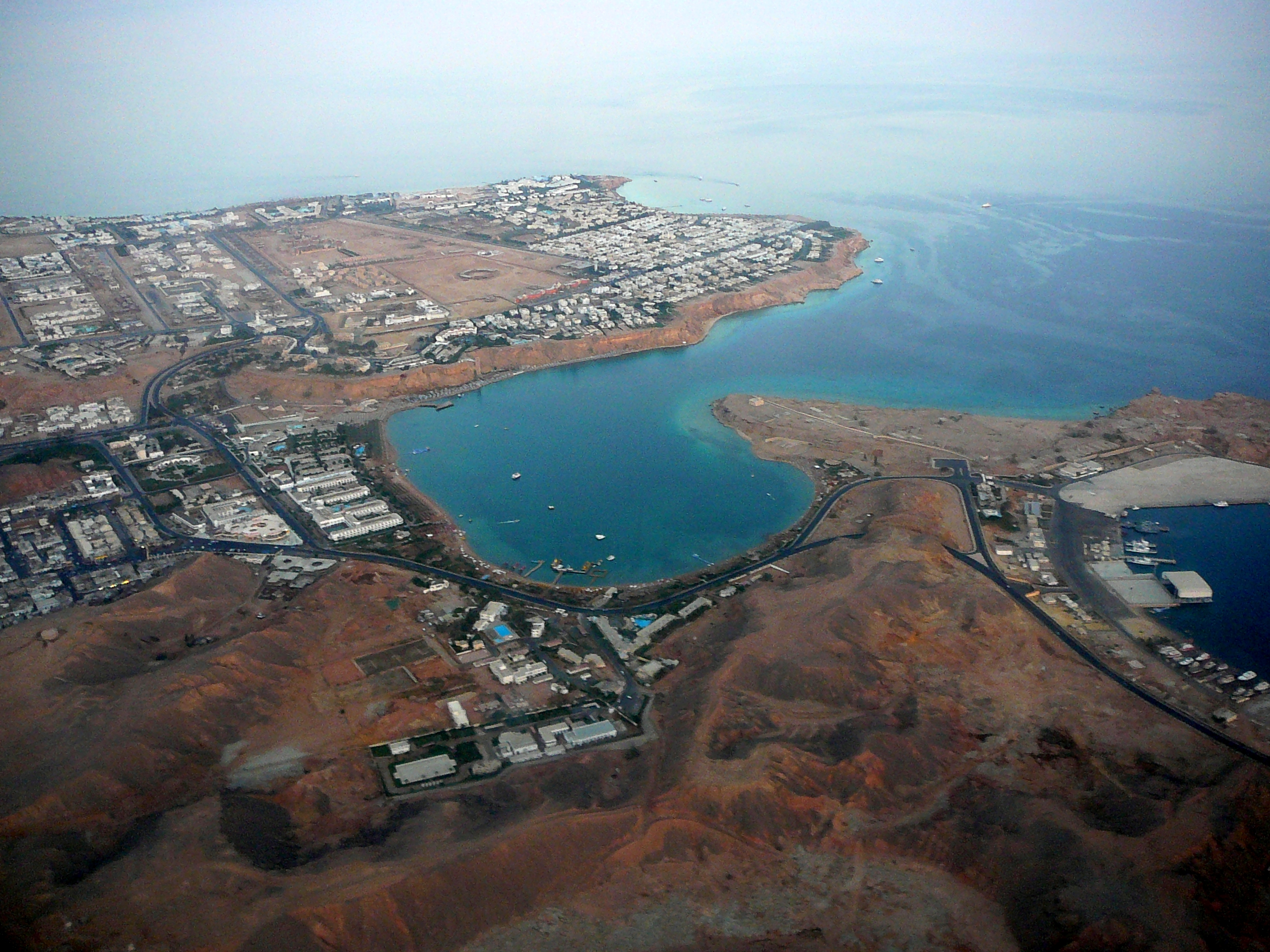 Ras Mohamed National Park
Shark & jolanda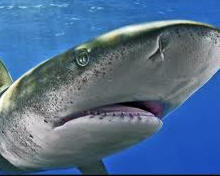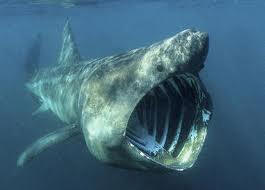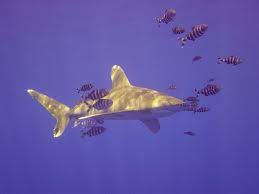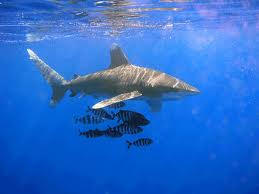 Ras Mohammed is a peninsula of land jutting out into the Red Sea at the southernmost point of the Sinai Peninsula. Most of the Ras Mohammed Peninsula is, in fact, a raised reef plate, indicating that the sea level was once higher than it is today. In 1983 Ras Mohammed was given National Park status, the area the park covers was increased in 1989 to include much of the surrounding seas. There are some 1,000 species of fish and 150 species of coral to be found in the waters here, hence the need for preservation.
World-renowned, no diver visiting the Sinai can afford to miss out the dive sites of Ras Mohammed. There are essentially 6 dive sites here: Ras Za'atar, Jackfish Alley, Eel Garden, Shark Observatory, Anemone City and the world famous Shark Reef and Yolanda Reef.
You can do a variety of dives here and can take in both Shark and Yolanda as well as Anemone City on a single dive. At Anemone City you will, of course, come across sea anemones with their ever-present anemone fish darting in and out of the anemones tentacles. At Shark Reef you can enjoy the Gorgonian fan corals, while looking out to the blue where you can expect to see schools of barracuda, Batfish and Jackfish. Yolanda Reef is named after the Cypriot ship which sank here in 1980 with a cargo of sanitary bathroom ware, cases of whisky and a BMW car. New visitors to the site usually find it amusing to see all the toilets and baths, etc on the sea bed. Blue spotted stingrays are common in the area as are moray eels.
Jackfish Alley
A dive at Jackfish Alley will give you the opportunity to see some caves and watch the fantastic light effects they produce. As well as Jackfish, you may well see Blue spotted stingrays, Triggerfish, White tip Reef Sharks and Manta rays.
Tiran area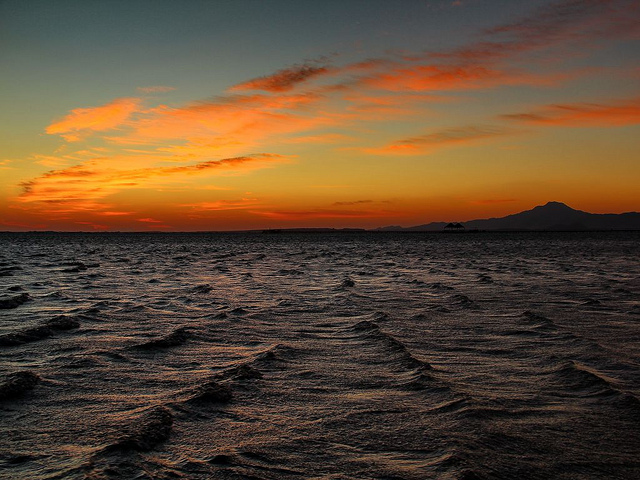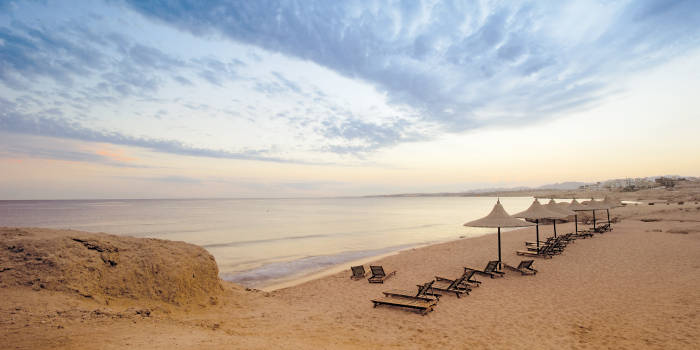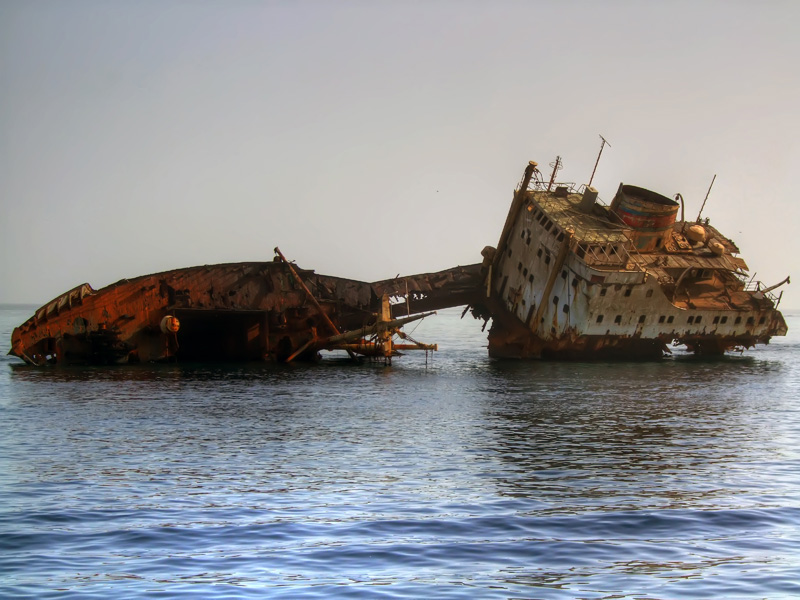 Thomas Reef
Believed to be one of the best dive sites in the northern Red Sea, only drift dives are possible here as there are no moorings. Here you will see a variety of corals including gorgonians, colonies of black coral and large Alcyonarians. It is possible to circumnavigate the entire reef on your dive, weather and currents, permitting. You can expect to see many reef fish including Angelfish and groupers as well as pelagic fish e.g. barracuda and the White tip Reef Shark.
Jackson Reef
This is the most northerly reef in the Straits of Tiran and is easily identifiable from the visible wreck on its surface of the merchant ship, Lara, which sank in 1985. Here one can expect to see gorgonian and fire corals. One may spot turtles here and the sharks which frequent this area include the White tip and Grey Reef Sharks and Hammerheads, particularly in the summer months from July to September
Dahab Area
Gabr el Bint
Gabr El Bint is translated literally as 'the Tomb of the girl' and is an hour's boat ride south of Dahab. Gabr El Bint falls within the protected area of Nabq National Park and upon arrival here one becomes immediately aware of the remoteness and tranquility of the region.

You will see large Gorgonian Fan corals at a depth of around 20 meters. Table corals, Alcyonarians, black corals and salad corals are also found on the reef plate here. Reef fauna likely to be seen here include Parrotfish, Anthias, Crocodile fish, Triggerfish and Blue Spotted stingrays. You may even encounter an Eagle Ray gliding over the reef. Out in the blue schools of Trevallies, Snapper and Emperor fish are common.



The Canyon

The boat will drop you near one of the entrances to the Canyon. There are several entrances with the main, larger one being at a depth of 22 meters. Depending on the ability of the diving group, you may have the time to penetrate a little deeper into The Canyon, the dive will then take you up through the length of the Canyon, where you can exit it at a depth of 14 meters

Popular and famous, these dive sites need little introduction. The boat's zodiac will drop you near the Bells dive site from where the drift dive will start. The dive follows the coral wall in a southwardly direction, with the reef on your right. Big colonies of Star coral, Gorgonians, soft and black corals are to be found here. You will pass anemones with their anemone fish and come across Butterfly fish and Angelfish on this dive.



Ras Abu Galum

Ras Abu Galum was afforded National Park status in 1992. The area is difficult to reach, hence, we are very fortunate to be allowed to take boats in here. There are two dive sites in the vicinity: North Ras Abu Galum and South Ras Abu Galum both of which are situated just off the shore where there is the Bedouin village of El-Omeyid and where the boats can moor so that dives are conducted from the zodiac.

At North Ras Abu Galum, you will see a huge variety of corals including Fire corals, Raspberry corals, small table corals, Porites and Salad coral (Turbinaria Mesenterina). ; In terms of marine fauna, you can expect to see Butterfly fish, Angelfish, Anthias, Glassfish, Lionfish, Grey Eels, Snapper and Batfish.

At South Ras Abu Galum, you will come across similar corals as well as Rose coral and may encounter a turtle, Puffer fish as well as many smaller creatures such as the Grey Eel, shrimps and nudibranch.



The Bells & The Blue Hole

Popular and famous, these dive sites need little introduction. The boat's zodiac will drop you near the Bells dive site from where the drift dive will start. The dive follows the coral wall in a southwardly direction, with the reef on your right. Big colonies of Star coral, Gorgonians, soft and black corals are to be found here. You will pass anemones with the anemone fish and come across Butterfly fish and Angelfish on this dive.
Finally, you reach the Blue Hole and enter this circular–shaped break in the coral reef swimming over the reef wall at around 7-5 meters. You will have time for a little swim in the Blue Hole before swimming back out over the reef wall, meanwhile conducting your safety stop, before rejoining the zodiac for the ride back to the boat.



Sharm Area



Thistelgorm

Lying some 31 miles from Sharm El Sheikh, the Thistlegorm is a popular site often visited by divers on day trips as well as live aboard boats. Built in 1940, the Thistlegorm was a sizeable British transport ship. Early one morning in October 1941 while moored at Sha'ab Ali, she was struck by German bombers and sank. She was carrying a cargo of munitions, anti-tank mines, motorcycles, Bedford trucks, spare parts, tyres and medicines amongst other things for the British troops in North Africa. She lies at depths of between 16 and 33 meters and both the ship and her cargo are very well preserved, making her arguably the best wreck dive in the Red Sea. Not only you will you enjoy seeing a ship and cargo so amazingly intact, you will also see plenty of marine life in and around the vessel making the Thistlegorm, effectively, an artificial reef



Hurghada Area

Small Giftun

Small Giftun Island has been a marine reserve for a few years now and it makes a big difference as this is one of the best dives in the area. The wall drops away to about 100m so pick your depth and gradually work your way back up as you drift along in the current. There are some picturesque coral formations sticking out from the main wall to explore, often decorated with soft corals. Tunas & barracuda are some of the inhabitant of this reef